631 Kearny Street, San Francisco, CA | 415-982-7877 | website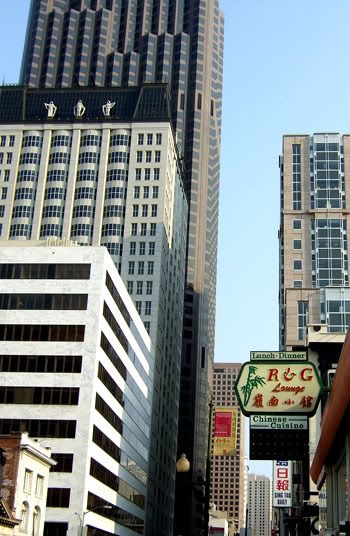 Yeah, I know, why focus on the tall buildings, but I love the creepy figures of the grim reaper that grace the mid-level building with the black roof on the left… looking towards the bottom right of the scene you can see the sign for R&G Lounge, a San Francisco institution specializing in Cantonese style cuisine. This is a smallish restaurant that has expanded since it opened in 1985 from a modest 50 seat dining room to a 250 seat restaurant spanning 3 levels with a full bar.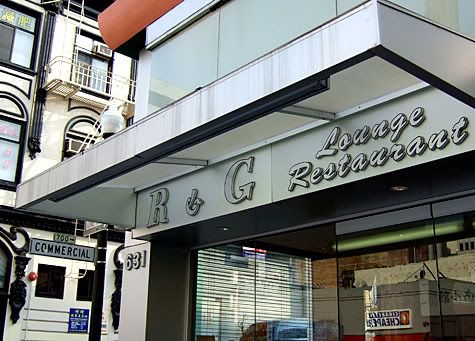 We had a table in the upstairs dining room, which feels strangely confining because the windows seem to be placed too low, as if this floor was an afterthought… it reminded me of the movie, Being John Malkovich. The street level and top floors have been recently renovated and the place was packed. I came here with a group of friends and co-workers last month to celebrate yet another birthday.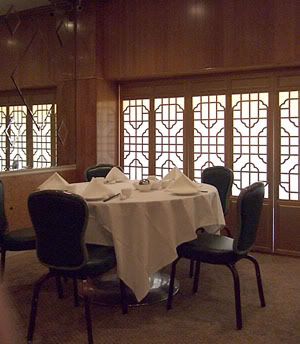 According to their menu, the Five Element theory is the cornerstone of the Chinese culture and it is believed that we are affected by the five energy fields of metal, wood, water, fire and earth. These elements are used to describe interactions between phenomena and form the basis of geomancy, feng shui, traditional chinese medicine, military strategy and martial arts. Cool huh? In relation to the Chinese kitchen, it's broken down to balancing the flavors and colors of each element with interactions of ingredients with each other. Cantonese style cooking does not use strong spices and instead focuses on bringing out the flavors of the primary ingredients.
We began our feast with Seafood Soup with Tofu a chicken broth egg drop soup full of soft cubes of tofu that evaporate when you bite into them and resemble ethereal floating clouds. Tiny bits of prawn and scallop added color and body to the savory thick soup.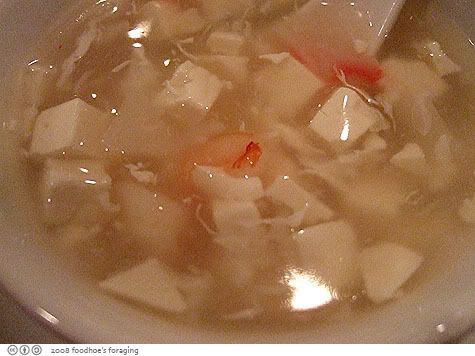 The sliced cold appetizer plate was an interesting mix of smoked salmon, poached baby octopus, sliced jellyfish salad, crunchy cured ham hock, barbecued pork (char siu) and five spice beef shank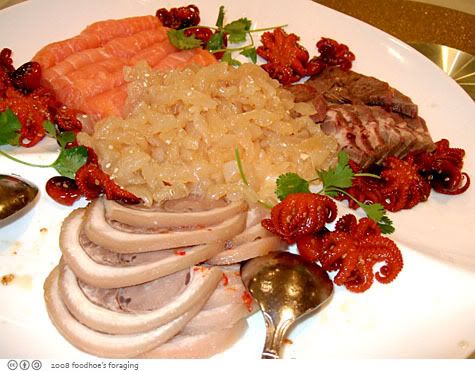 Soy Sauce Chicken surrounded by crunchy fried fish paste chips. The skin was a burnished mahogany and slow cooked to render out the fat, inside the meat was tender and very juicy.
it was good dipped into the spiced salt served alongside.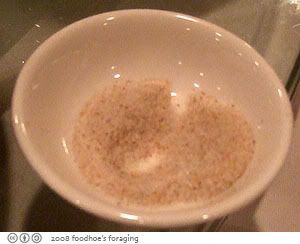 R & G Special Beef, stir fried sliced beef that is marinated in a secret sauce. It is tart, sweet and savory, aggressively flavored with garlic and soy, and the meat is tender with perfectly crisped edges.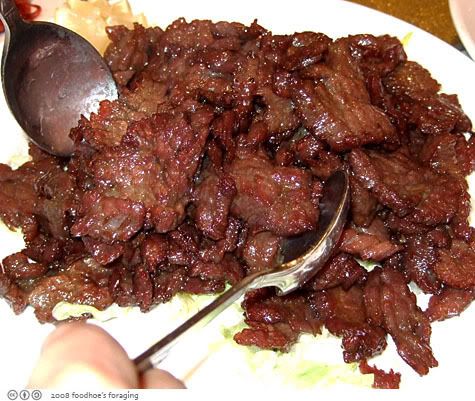 Kiang Ton Spareribs, which are sauteed with a tangy sweet and sour sauce, and yes the ribs were probably battered and fried….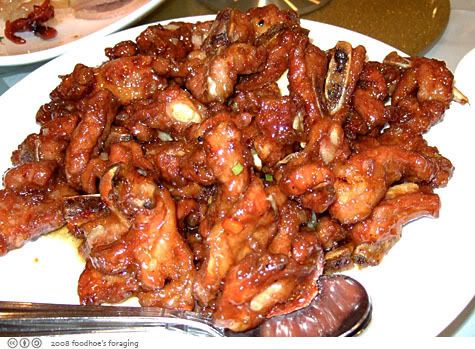 Yang Chow Fried Rice, which is the classic preparation of fried rice served throughout North America, except that this had succulent chunks of crab mixed in along with bits of eggs, green onion and prawn.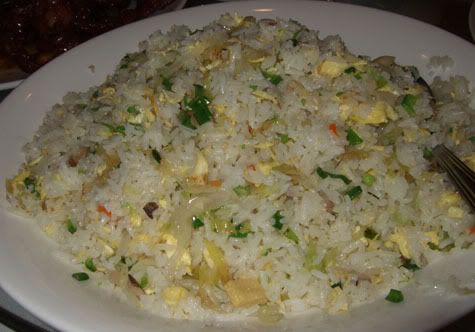 Braised Tofu with Mixed Vegetables in a light sauce, another classic preparation but everything was fresh and crisp and cooked just right.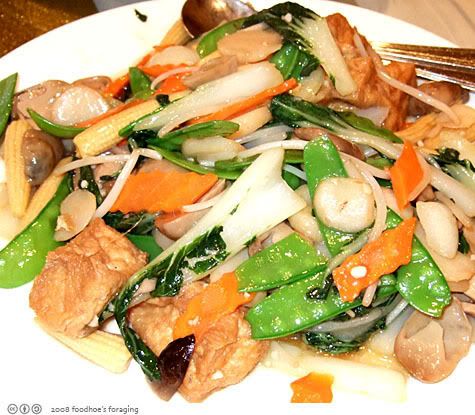 Honey Walnut Prawns which are decadently battered and deep fried until golden and crisp, then lightly coated with mayonnaise and served with candied walnuts covered with sesame seeds. There is something depraved about eating fried food coated with mayonnaise that appeals to my baser self and I always hoard the sticky candy coated walnuts on my plate.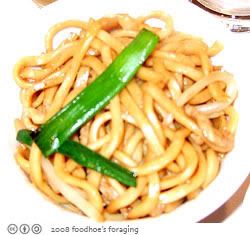 Long-life noodles (yee fu mein with grass mushrooms and yellow leeks) were deliciously elastic and supple. By this point in the meal I couldn't finish my bowl of long-life noodles… uh-oh, I'm in trouble now!
The dessert was a refreshing sweet soup that could have been bean or possibly chestnut, with squishy little tapioca pearls. It was served warm and none of us were able to eat much of it, although it was very good…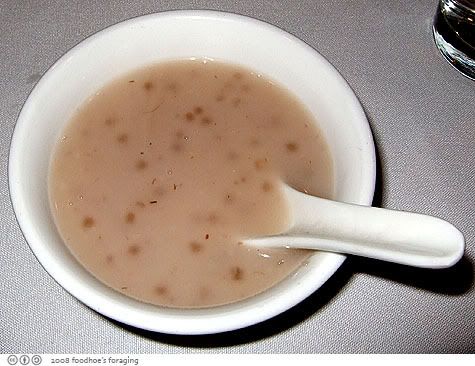 Whew, that was an epic feast -a ridiculous amount of food and we had a ton of leftovers which they packaged and bagged up for us…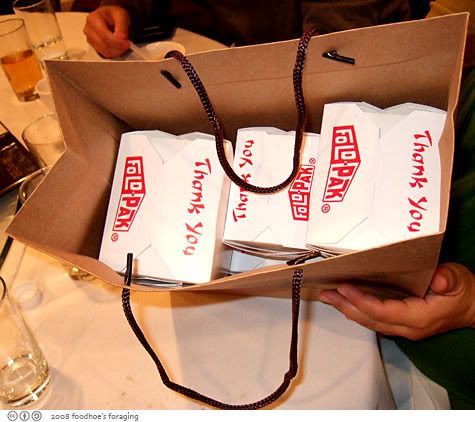 R & G has a well deserved reputation for really good Cantonese cuisine, although I think that their full dinners are much better appreciated than the lunchtime rice plate specials. Their most famous dish is the salt and pepper crab, another cult favorite is a chicken that is stuffed with sticky rice and deep-fried (and must be ordered 24 hours in advance), along with clams with black beans sauce which all sound so intriguing that I have sworn to return to try them soon… OMG I can't wait!