27915 Mission Blvd, Hayward, CA, 94544 | (510) 538-5393
We were working on the interminable home project and needed something substantial to fuel the beast.  Mr. K tends to favor burritos for this purpose because taquerias and taco trucks make the best kind of fast food, where you get delicious food that is prepared before your eyes. I found this brightly colored taqueria while driving way far down Mission Blvd, almost to the far end of Hayward – in fact I saw a sign that said Haymont, which I think means I entered the border between Hayward and Fremont.  There is not much along this stretch, a bunch of small car lots, a cemetary, and strangely enough, a hookah palace.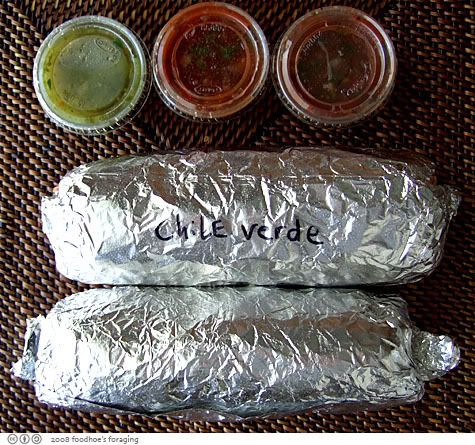 I was the only person in the place, so I was able to take my time looking over the menu.  I decided to order a Chile Verde burrito which was the daily special.  It was full of big pieces of tender pork and I was an instant fan of Pepe's Chile Verde.  I was bewitched with the moist shreds of meat and the absolutely perfect ratio of meat, cheese, beans and rice.  It was very good with the spicy salsa.
I ordered a Steak Fajita burrito for Mr. K who couldn't believe how good the grilled peppers, onion and beef were inside of a burrito.  The preparation seems to me a good way to get fresh cooked meat, rather than something that has been sitting in a bin for a while.  While the Chile Verde was excellent, this fajita burrito was even better.
On another visit we got a Chicken Fajita burrito which was full of big pieces of chicken and included avocado.  The charred edges and caramelized onion was not as artfully done as the other day, but it was still pretty good.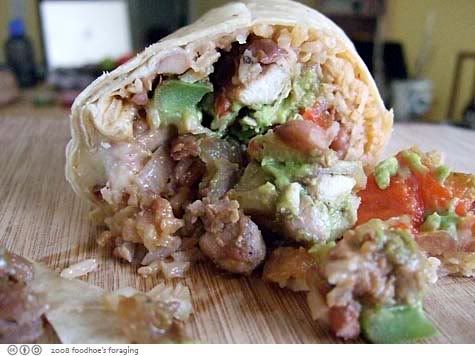 We have a lot of taquerias nearby, but both the Chile Verde and the Fajita burritos at Pepe's are worth the further drive.  I've only ordered food to go, but there is a decent dining area lined with portraits of revolutionary heroes Pancho Villa and Emiliano Zapata.