pier 33 @ bay street, the embarcadero, san francisco | tel: 415.864.8999 | website
I work near Levi's Plaza which is conveniently close to North Beach, Chinatown, the Ferry Building and the Financial District, but in reality it takes a good jog to get to any of these places especially when you are trying to keep lunch to one hour.  Most of the restaurants in the immediate area of the office (Fog City Diner, Houstons, Pier 23, and Il Fornaio) are a bit pricey as they seem geared for people on an expense account and the service is really slow…  Of all the nearby restaurants, Butterfly is my favorite, as can be evidenced by many meals posted here on this blog: kobe beef albondigas soup with tapioca pearls, shaking beef cobb salad, kobe beef burger, lunch 9-07, happy hour 10-07.  Over the course of these memorable meals, I have become a fan of Chef Robert Lam's style of Asian fusion that is strongly influenced by his own Vietnamese background. I'm just glad it's just down the block from the office.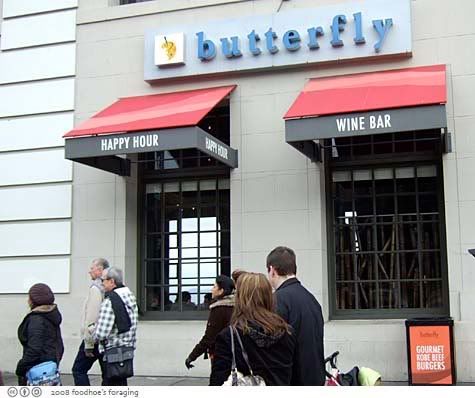 I had a craving for a particular dish that I enjoyed a couple of weeks ago, a messy but delicious plate of turmeric grilled snapper, but for some reason or other didn't take any pictures at the time.  I kept thinking about it until I found myself skipping over with enthusiastic abandon last week for lunch.  There was one of those gigantic cruise ships that had pulled into dock, so there tons of people, taxis and tour buses chaotically milling around.  Once inside I was seated by the window in a cushy little booth where I could admire the extremely cool looking light fixtures that resemble sea urchins floating overhead.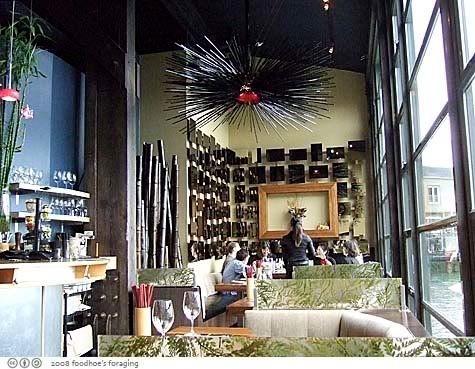 I had an unobstructed view of the enormous cruise ship from my seat – notice the tiny boat in the forefront with two men standing in it to give you a frame of reference…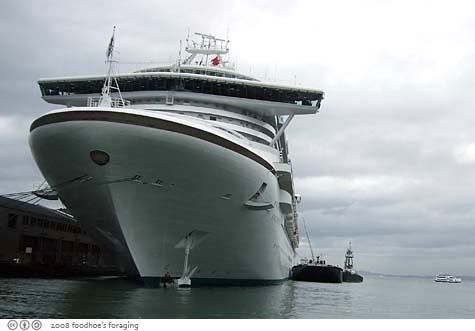 Back to the food…  Mmmm, they serve a complimentary dish of Edamame that has been tossed with toasted sesame oil then sprinkled with black and white sesame seeds and pink Himalayan sea salt.  This preparation is simple but decadent, and so good.
Here it is, my plate of Grilled Turmeric Snapper, which arrived sizzling in a small cast iron pan on top of sliced white onion, green onion, sliced jalapeno and fresh dill that char and soften beneath the weight of the snapper.  The flesh is tender and flaky inside and crisped around the edges.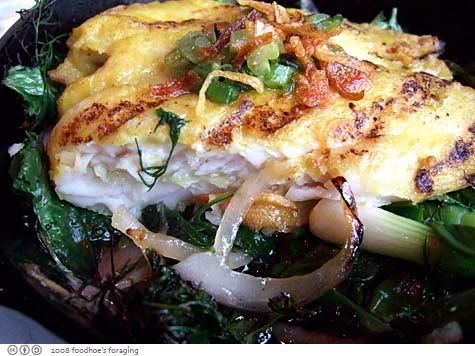 It's served with a plate of fresh butter lettuce leaves and some herbs (mint, basil, green onion) to wrap it up in and an accompanying bowl to make a noodle bowl if you so desire.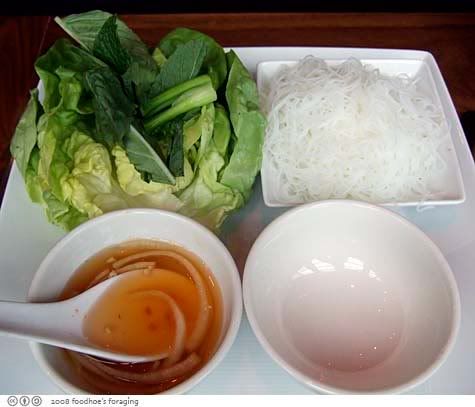 Oh and of course it comes with the ubiquitous bowl of classic Vietnamese nuoc cham sauce, which is like pouring liquid firecrackers onto your food because it explodes on your tastebuds with a sweet, salty, sour and spicy burst with an extra kick through the nasal passages from the fish sauce.  Yes the noodle bowl is a very civilized way to eat this dish…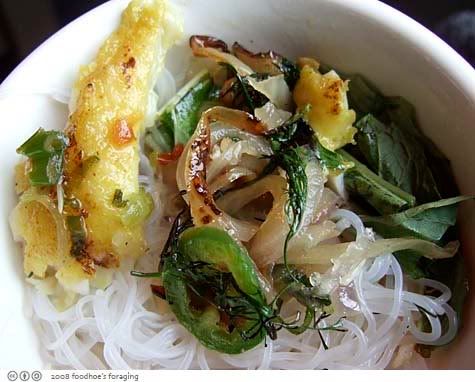 But for us who like to eat with our hands, it is wonderfully messy to eat wrapped up in the crisp lettuce leaf with some of the noodles, grilled vegetables and fresh herbs and then liberally dosed with the nuoc chamsauce.   It's no wonder I didn't take pictures last time, I had fish sauce dripping down my arms and was glad for the big cloth napkin protecting my lap!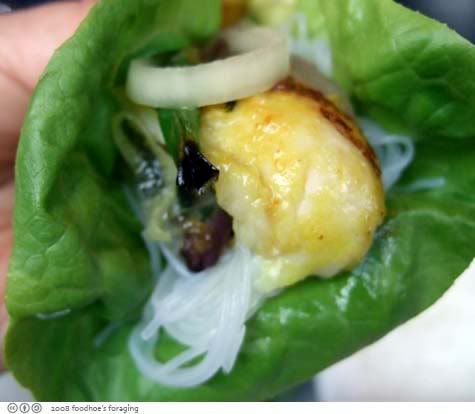 It finally occured to me that I was enjoying the famous Cha Ca dish that I have been wanting to try after reading Kirk's post about eating it in Hanoi and he again mentions eating it here on his fabulous blog mmmm-yoso!!!  Dylan at Eat Drink & Be Merry also posted a recipe with gorgeous photos and another post here too, and of course I must not forget Cathy's series of posts on this tantalizing and famous dish that she pursued while living in Vietnam this past year.  That's the tragedy of eating a dish at a fusion restaurant with only the anglicized title to go by…  but it was delicious and now I'm really determined to find a restaurant serving it with the fragrant shrimp paste and all the traditional fixings!