674 Broadway(btwn Columbus Ave & Stockton, San Francisco, CA | 415.398.8838 | online menu
This is now our favorite congee in Chinatown and during the first week of the lunar new year celebrations, we came here for lunch almost every day; for the jook, fried bread and fried donuts, as well as to explore their interesting and unusual menu.  We asked co-workers Jay and Kent, who can read the fine print on the menu, to order the good stuff for us.  This was the first dish to arrive on the lazy susan, we wondered what would this dish be?  My first guess was lemon lychees, but it turned out to be spicy Curried Fishballs with Braised Pork Skin (6.95)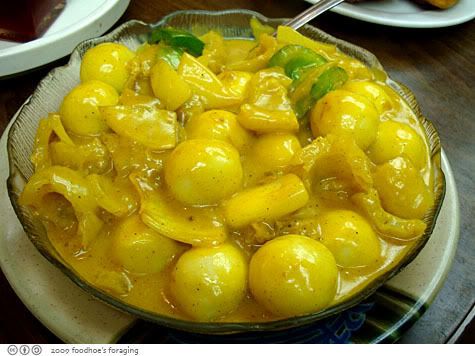 The fish balls had a smooth rubbery texture that snapped when you bit into them, kind of like a hot dog and was delicious with the mild curry sauce.  The braised skin was chewy and soft with an interesting gelatinous appeal.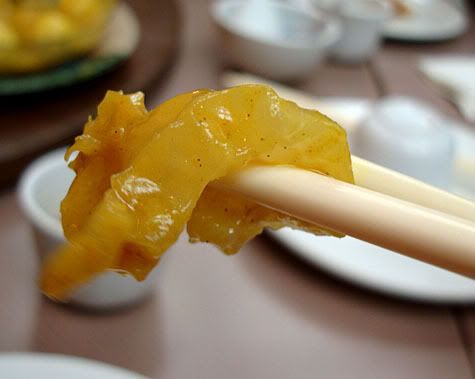 The Hong Kong Style Beef Chow Fun (6.95) was a fragrant mound of  smoky wok charred flavors, big slices of beef, crisp fresh bean sprouts, sliced cabbage and chewy rice noodles.
I loved the Cola Chicken (6.95) which were delicious fried chicken wings served in a delectably sweet and sour and spicy glaze made from coke syrup.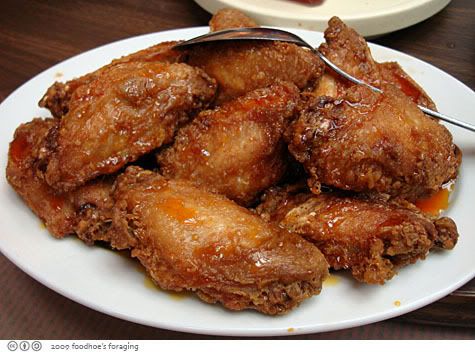 The sauce was infused with hot chili oil and had a sticky syrupy texture that clung to the crisp battered skin, it was addictive and messy in the manner of good saucy wings.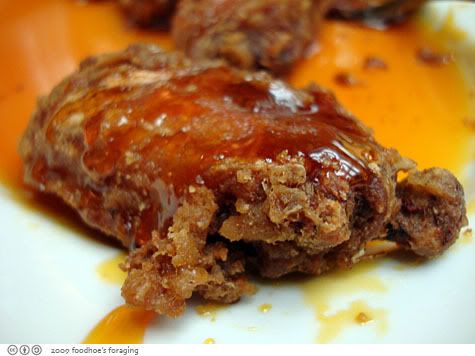 Alexson was excited to see "Fookien" style Fried Rice (8) which is basically fried rice that is served with stir-fried chicken in brown garlic sauce on top – this is seriously filling food.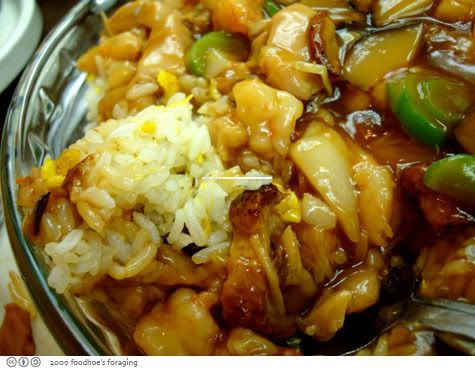 The most unusual dish, was innocuously called Combination Eggs over Spinach (6.95) on the menu, but is also known as Gold/Silver Spinach gum ngun boh choi in cantonese. It is a combination of preserved eggs that are grey/silver and salted duck eggs that had bright golden yolks.   The duck eggs were intensely salty and had a thick curdlike texture, which was mellowed slightly by the plain steamed spinach.
The Wontons in Soup with barbecued pork was served in a large bowl full of big meaty wontons stuffed with ground pork and bits of shrimp.  The soup was a bit murky but very flavorful, and next time I think I will have to try their wonton noodle soup.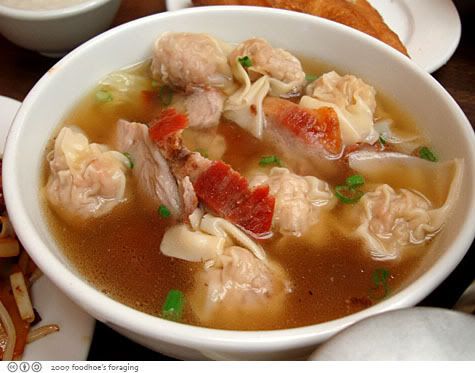 Salt and Pepper Spare Ribs were crisp and garlicky with lots of meat.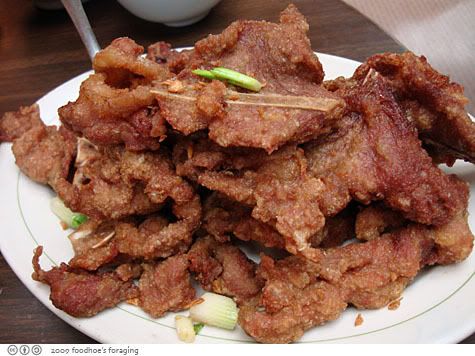 We were served a complimentary soup that my co-worker said is made from a flower that grows freely in the city where he grew up, but he didn't know what it was called in english…  it reminded me a little bit of artichoke and sometimes I thought it was like asparagus.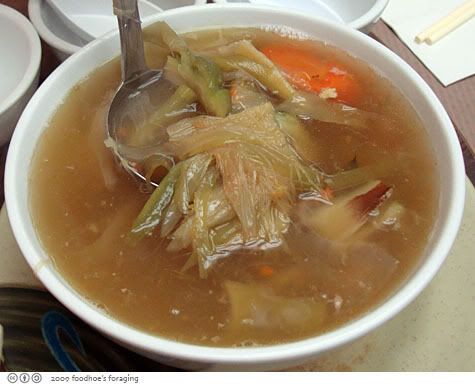 As I mentioned before, this is a first rate dive with schlubby furniture that is coated with a rich sheen of grease but the food is really the focus here,  not the surroundings.  However, I have something terrible to share with you, I saw something so gross that I stopped eating here for several years…  First though, let me remind you that this is a tightly packed urban area that has been crammed with Chinese restaurants for countless years, and rumour has it that when one restaurant clears out the rodents, they all just pack up and move next door until the coast is clear…  One day a small group of us were enjoying lunch when we watched first in amusement as an orange and white cat jumped up from an underground storage area, then in disbelief as the cat trotted over to a potted plant, where it squatted and pooped to our complete and utter dismay.  I flagged down the waitress, pointing over to the pile.
Needless to say, my relationship with Hing Lung ended for some time… until this year I checked them out on the dept of public health site which awarded them a 70 percent, which in my book is a passing score.  In many ways I think it is a good thing that they keep a cat on the premises and who could blame it for wanting to come out from its underground lair…  So, now that I know that they pass the dph's standards, I look back at the catbox incident through the fog of time and my tastebuds overrule my previous concerns…