121 Spear Street (b/t Mission and Howard), SF, CA | website | Happy Hour 3:30 – 7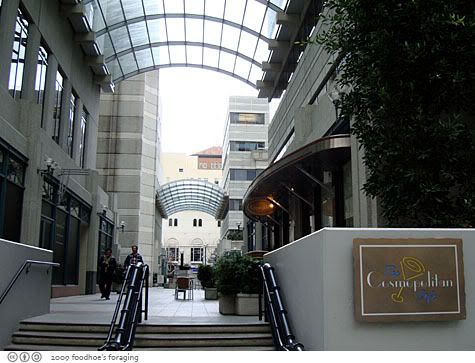 It's high time for a happy hour, even better if the hour extends to at least a few…  The Cosmopolitan Cafe is tucked in a corner of the Rincon Center south of market and has a very festive and reasonable Happy Hour running from 3:30-7.  Cody, DebbieG and I first visited last year in May and then again just a few weeks ago.  The first time we came here it was so crowded that we couldn't sit together at a table, and this time we were one of two tables that were filled in the bar area.  Times have certainly changed…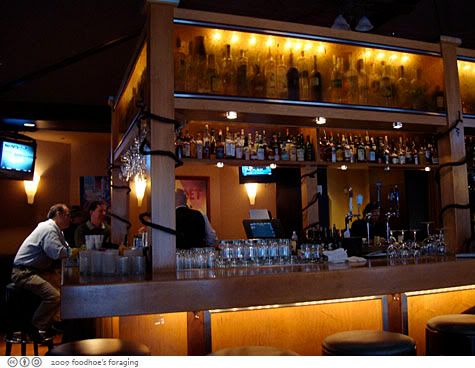 Appetizers were $6 and designated happy hour beverages ranged in price from $4 to $6.   We started with an order of the Mini Corndogs, which were served on little lollipop sticks and glued onto the plate with a smear of spicy brown mustard.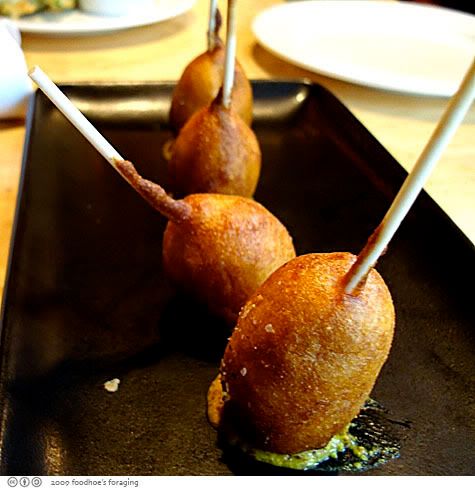 They weren't as good as I remembered, the cornmeal crust seemed a bit saggy and the proportion of meat to cornmeal was  just not satisfying; however, I did like the tiny hotdogs – they are coarse and more like a little sausage than a hot dog.  On our last visit we had several orders and couldn't stop eating them, but we only had the one plate.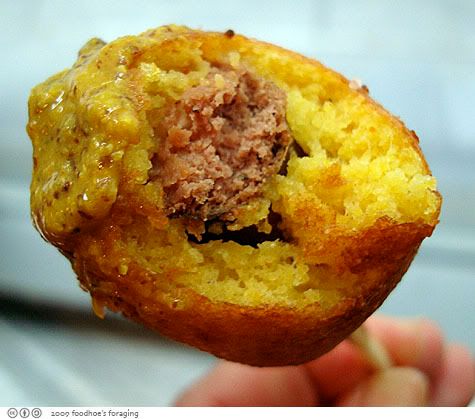 We liked the $6 pizzas the best, this was my favorite, the Margherita, a plain and simple tomato sauce, basil and fresh mozzarella cheese.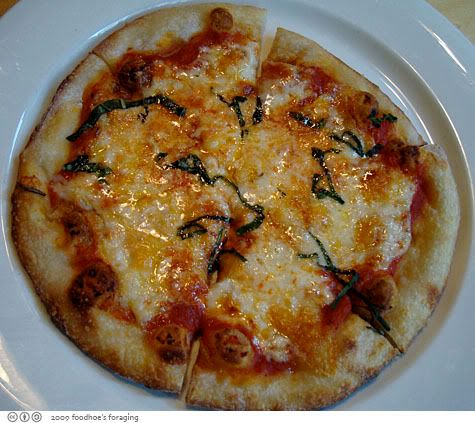 It had a thin crisp crust with the perfect ratio of toppings, sauce and crust.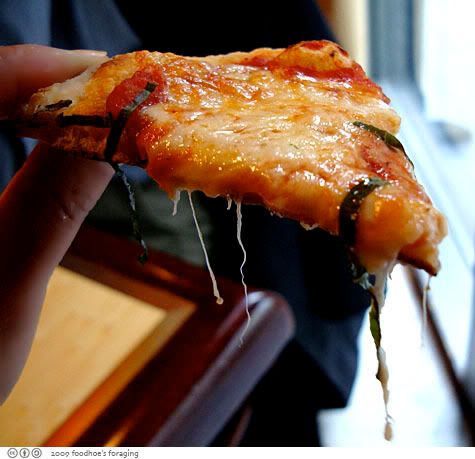 This was the daily special, canadian bacon with jalapeno peppers that achieved a searing and painfully high score on the scoville scale.  Even slices that had no jalapeno pieces on them packed a wallop, what, heat transfers just by existing on the same crust?  Perhaps it oozes all over via the melted cheese…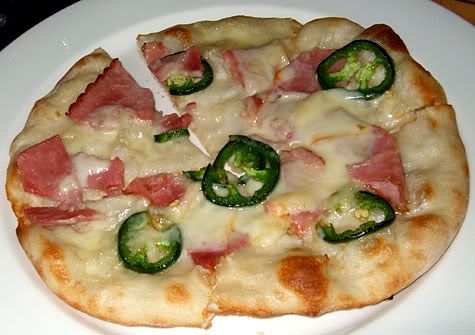 We also had the Italian Sausage with caramelized onions that was topped with a soft gooey cheese.  It was good, but I liked the plain margherita pizza best.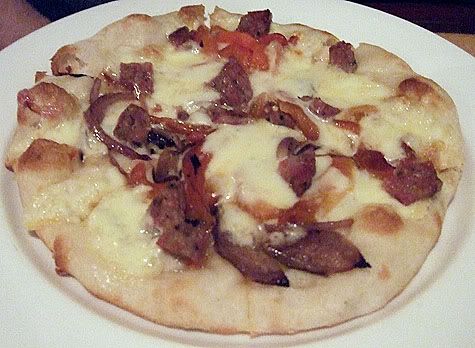 Crisp Duck Spring Rolls with Thai Chili Lime Dipping Sauce were bland with delicate wrappers and did not seem fresh from the fryer.  The texture was similar to a frozen eggroll from costco, which was unfortunate because the plate did come with some nice fresh herbs and leaves of butter lettuce to roll things up with…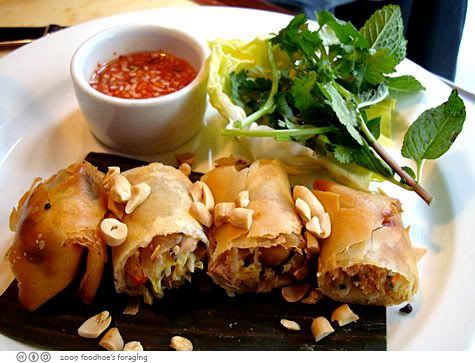 I am a big fan of fried foods, and love the combination of wrapping up the crisp roll in a lettuce leaf with some fresh herbs.  This was lacking in flavor and texture all around, even with a good dose of the chili lime sauce.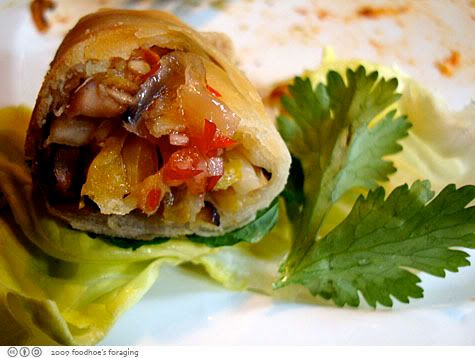 I was the only one who liked the Fontina stuffed meatballs, polenta, spicy tomato-basil, which  meant I got  to finish the extra one on the plate.  What's not to like?  A well formed meatball filled with melted cheese, cooked in marinara sauce served over a small blob of polenta…  I thought these were a very tasty and fine fingerfood.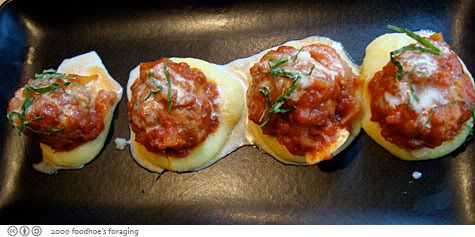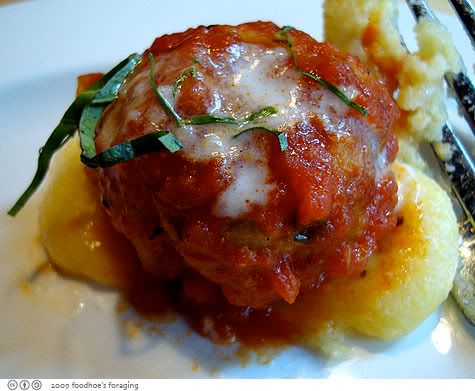 The Crab Quesadilla was very disappointing.  These were rolled up in a spongey crepe-like thing and topped with a super tart guacamole that overwhelmed the rest of the dish.  I noticed a strong fishy odor as well.  No one liked this very much and everyone tried to make me finish the dish, hmmm… I was beginning to see why the place seemed so empty…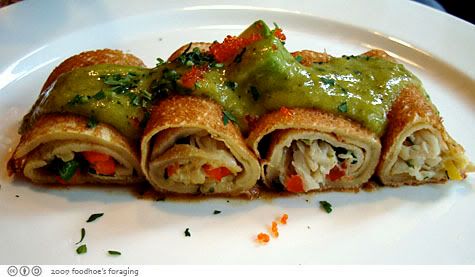 Tempura Green beans drizzled with Wasabi Aioli were very good, the beans were fresh tasting and encased within a thin delicate tempura batter crust.  They were served with a soy sauce dipping sauce and drizzled with a creamy aioli with a pungent wasabi burn.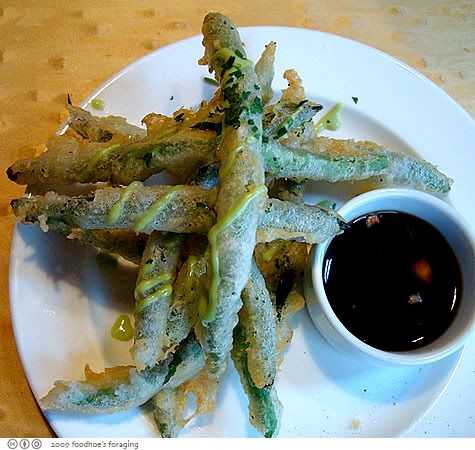 This is a picture of the restaurant which is a few steps down and sports a sleek clubby feel with the dark wood paneling and white tablecloths.  Unfortunately, my dining partners weren't interested in dessert, because there was a dish that really caught my eye: Trio of Childhood Treats: Peanut butter cup, Malted milk fudgesicle, Cream filled cupcake ($8).   Ooh, those are some of my favorite things…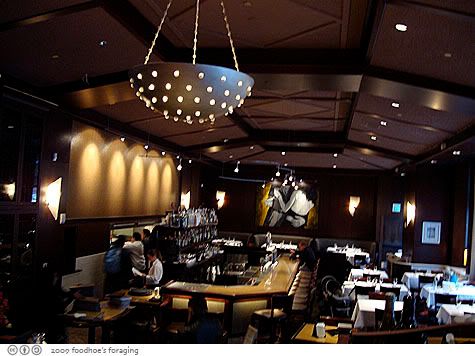 It's a nice bar.  I'd come back for the happy hour and order more of the pizza, tempura beans and the meatballs… and that dessert trio.