89 Belden Place (@ Pine), SF, CA | 415.986.3808  | website
I was in training last week and got a chance to check out Best-O-Burger and its new dining area.  Best-o-burger (bob for short) opened last year to great success with its gourmet mini burger made from all natural fresh Angus beef, served on tiny fresh baked buns.  The interior has a sort of glamorous fast-food ambience with a cheerfully modern yellow and red color motif, stark white walls and striking artwork on the walls.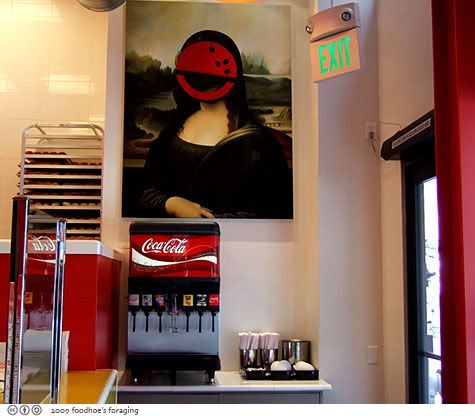 There's a full crew of burger dudes who sear each burger in an iron skillet cooked to order.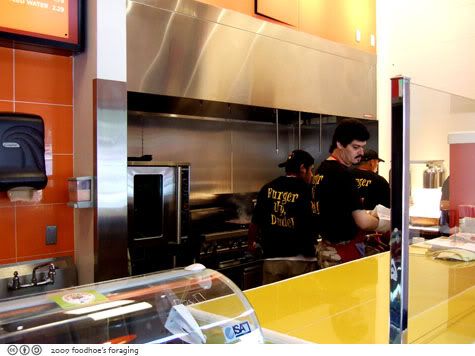 You can order ala carte, but I went with the 2 piece combo which includes two minis and an order of strings and ring-o's (french fries and onion strings) for $7.12.  After you place your order, you are given a flag with your number on it with instructions to go outside, turn the corner, open the door and descend down into the basement dining area.  It still seems a bit cruel that you have to pass through the excellent outdoor eating area of Belden Place to get to their dark basement dining room.
The ambience is underground day care with plastic furniture.
But it does have a self-serve soda machine and extra nappies and condiments.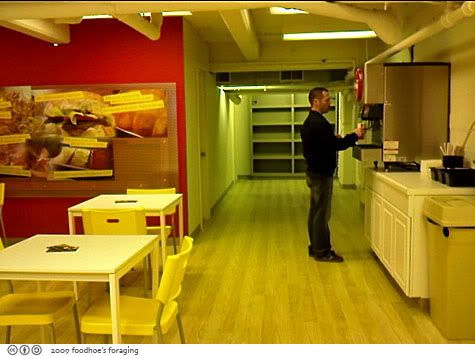 Our orders were brought to us on silver platters.  Even the strings and ring-o's were served in a paper lined silver cup.
Here's the Vegg-o burger, which is grilled mushrooms with garlic and melted swiss cheese.  It is topped with a lot of pesto and more veggies.
It's delicious and messy.
Here's a top shot of the strings and ring-o's.  I prefer onion rings to onion strings, but these were fresh from the fryer which in my opinion, makes up for just about any offense.  The fries were perfect, crisp on the outside but tender and squishy on the inside.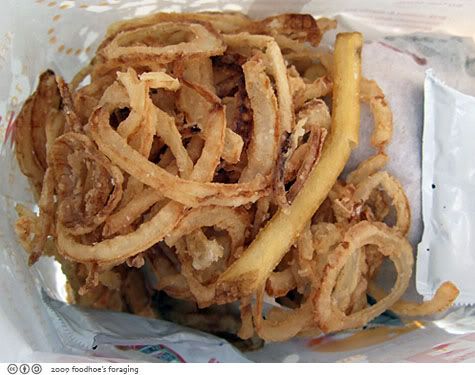 I also ordered a Sloppy Bob, but thought it was unworthy.  It was a little spicy, but was lacking the chew factor, so I tossed it after a couple of bites and went back to order a mini cheeseburger.   I was only charged $2.68 which seemed like a fine deal to me.
The Cheeseburger is generously slathered with special sauce and has crisp lettuce, a slice of tomato, onion and pickle.  Order this rather than the sloppy bob.  The burger had a nicely charred crust and had a pinkish cast inside. 
There's more interesting wall art in the downstairs dining area, which is good… you need something to distract you from the depressing plastic furniture, low ceilings and fluorescent lighting.   I'd rather take the minis to the roofdeck of the crocker galleria on a nice day, but this works if you are in a hurry… 
I loved the mini cheeseburgers and will have to come back to sample some of the other minis from the menu.   They also have locally made gelato that you can enjoy in a mini-shake for $3.