860 Folsom Street, SF, CA  94107  | 415.995.2061 | website | reserve now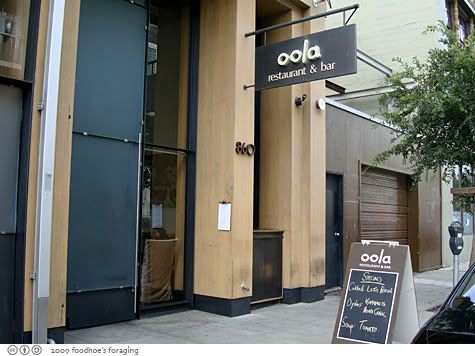 A while ago, I met JT here who was once again plagued with that exasperating problem of expiring gift certificates, which I am always happy to help out with.  We shared a lovely feast of mostly appetizers, while reclining in the cushy lounge area on sofas.  The last time I came here, we sat upstairs which I remembered being dark and mysterious.  I liked the style of the downstairs, which has high ceilings and dramatic lighting.  The stools at the glowing bar looked like marshmallow toadstools, but I was glad to be kicking back by the windows which provided very nice light.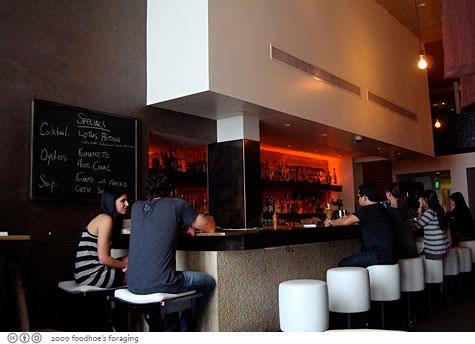 Chef-owner Ola Fendert has cooked at places such as Plouf and oversees the menus of Chez Papa and the now closed Baraka kitchens, which feature French, Italian, Moroccan and Spanish specialties. His namesake restaurant serves bistro-style American cuisine highlighted by local and organic ingredients.  We gobbled our way through the appetizer menu, beginning with the Fried Chicken ($6), which were juicy nuggets covered in a thick crunchy batter served with tiny jalapeno and goat cheddar cheese corn bread muffins.  Underneath the chicken were swaths of spicy mustard sauce that we dragged the chicken through, adding a zesty and flavorful edge to the crispy fried morsels.
I ordered Oysters which were listed as a Happy Hour special… wait, doesn't that mean they are trying to get rid of them?  Well, I ordered a half dozen of the kumamotos, which our server forgot about, so when we reminded him about it, he brought them and said they were on the house.  Awwww, sweet!  And they were very sweet, plump and briny, served with fresh lemon wedges, mignonette and cocktail sauce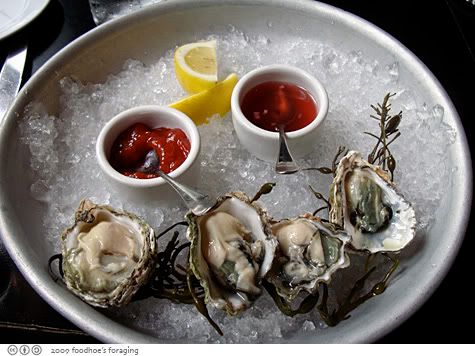 The Parmesan and Truffle Fries ($7), were lightly dusted with thin shavings of parmesan cheese that melted onto the surface, adding a delightful aroma and very good flavor to the well proportioned snack.  They are of the classic size and shape (read McD's) and cooked til delicately crisped on the edges and the insides were like mashed potatoes.  If only all fries were so savory, we wouldn't want to dip them in ketchup.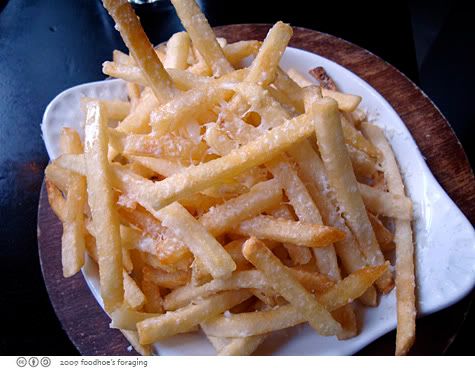 We devoured the Mac & Cheese ($5), which had a fine sharp cheesy flavor, although the texture seemed a little watery and the crunch was achieved entirely by the breadcrumb topping.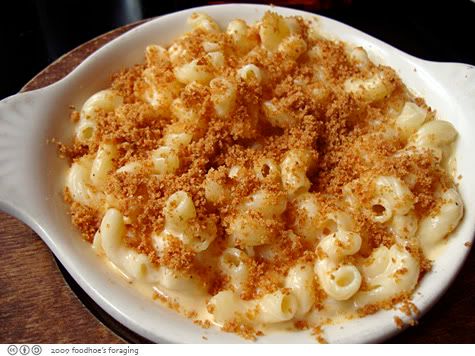 In a perfect world, I love mac & cheese that has been browned on top, but this was very good, each bite delivered a satisfyingly cheesy mouthful with a nice crunch from the breadcrumbs.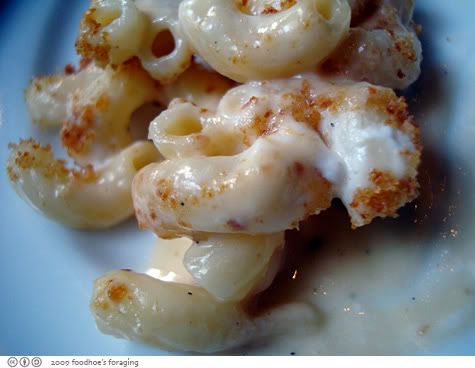 We were looking forward to their famous All Natural Baby Back Ribs ($14) which have a remarkable texture because they are braised for hours, then flash fried to a crisp and tossed with a sticky sweet and savory barbecue sauce. These were sublime.  Crisp and charred and falling-off-the-bone tender, each bite had us smacking our lips and licking our fingers. A search on the interweb reveals that the recipe can be found on the Food & Wine website.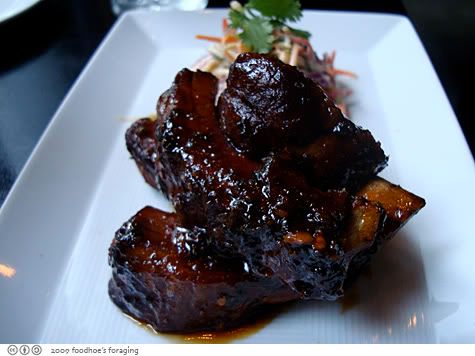 We ended with the decadent Chocolate Caramel Cake ($9).  The warm chocolate cake cake was soft and delicious, filled with a runny caramel fleur de sel and topped with a rich chocolate sauce that was also drizzled along the plate.  It came with a scoop of refreshing vanilla yogurt sorbet and a few pralines were sprinkled over the plate.
It was a goopy and magnificent end to our meal, I sought out the salted caramel filling and pieces of praline.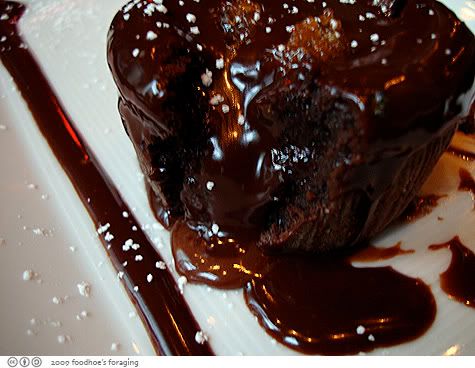 I found Oola to be a very good spot to enjoy a festive happy hour, we pretty much cleaned each plate from the appetizer menu!