2115 Kelly St, (between B St & Center St) Hayward, CA 94541 | 510.889.8257 |  Tue-Sat 6:30 am – 10 pm | cash only

San Leandro, my current hometown, is not known for its fine dining, a fact which inspired me to begin this blog – as a means for me to chronicle some of the food that I encountered out in the whacked out suburbs, along with what I devoured in the fine city of San Francisco where I used to work (I can't believe that I forgot to even mark this blogs 5 year anniversary last February…)  Anyways, as long as I have lived out in the gustatory wasteland, Val's Burgers in Hayward is the only restaurant of note in the area that people regularly point out to me as worth going to.  This old school burger joint is tucked way out on an obscure residential corner of Hayward, but it manages to have a line out the door at any given time.  SF Chronicle food critic Michael Bauer recently placed it as number 7 in an unofficial list of the best burgers in the Bay Area, Roadfood approved, SeriousEats worships it, and well Foodhoe gives her own stamp of approval.  Mr. K and I arrived on a Sunday around lunchtime and got in line, I must say that the parking was pretty competitive for this part of the world..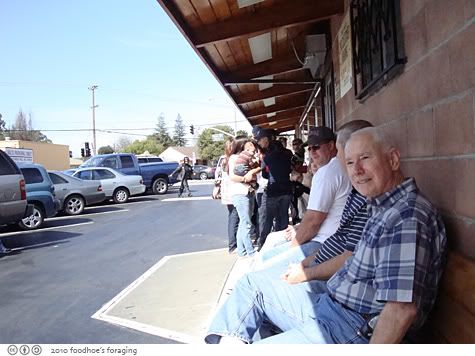 We stood in line for at least 20 minutes before we were seated in our own booth, which offered expansive views of the chuck wagon style wood lined interior.  Up front is the mustachioed gent in a white shirt and black vest who seems to embody the western theme of the restaurant.
Val's is known throughout the realm for their malted milks and shakes, and I watched the hard working fellow constantly at work manning the fountain station.   The popular shakes are served in icy metal containers that seemed to hold more than enough for two to share.
The wonderful menu is so picturesque, I had the small BABY burger, Mr. K had a MAMA burger.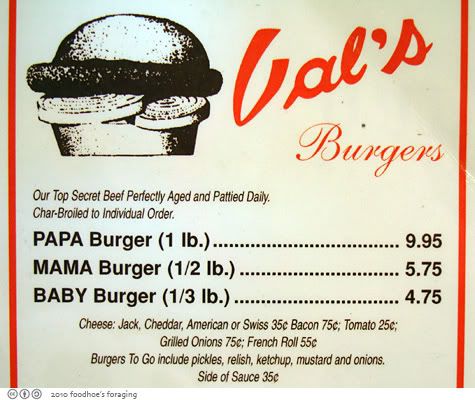 Mr. K began with the Tossed Green Salad ($3.75) which was a small handful of crisp iceberg lettuce, served with a single slice of dry, mealy tomato and a couple packets of seasoned Ry-Krisp crackers.  He did not seem to be very impressed with his side salad.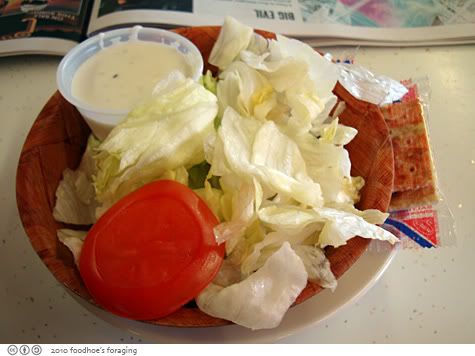 On the other hand, my order of Onion Rings was steller, each was coated in a delectably crisp, chewy batter with a densely breaded texture that enclosed thick rings of silky soft onion.  Absolutely heavenly… in fact, I can't wait to go back and order the onion rings and one of those milkshakes!
On each table are plastic containers with relish, pickle chips and onion slices for you to detail your burger with.  Very cool touch, although the onions looked a little bit tired…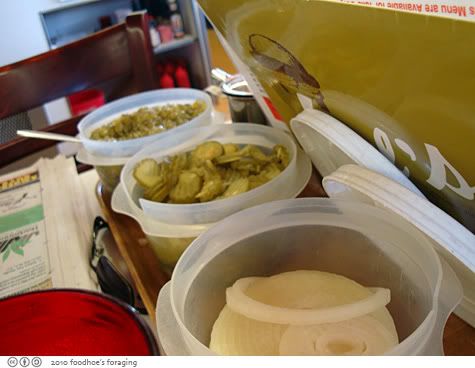 Here's the 1/3 lb Baby Burger with cheddar cheese ($5.10), which came with tomato slices and lettuce.  The chuck burgers are ground fresh daily cooked on the grill to a delectable charred exterior.  The texture of the meat was crumbly and a bit on the greasy side as it dribbled a lot while I devoured it.  The mild cheese could have passed for american and along with the crisp iceberg lettuce and crunchy tomato slices, presented a classic old school cheeseburger.
Mr.K's 1/2 lb Mama Burger with cheese for $6.10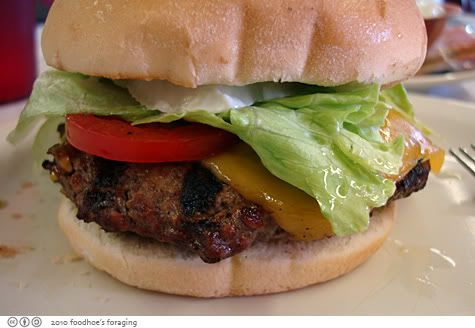 It was a tasty burger to be sure, but rather greasy in comparison to the one I recently enjoyed at Zuni Cafe, or my other favorite Balboa burger, but those onion rings more than made up for it.  Many people say that the fries here are superb, given the choice between onion rings or fries (and when frings are not an option) I'll always go with the rings…  From my neck of the woods, Val's is pretty supreme.