Last week's Crawfish Boil and Ho Down bought the venerated southern culinary tradition to San Francisco, where we sucked the heads and pulled the tails from piles of deliciously spicy crawdads.  By the end, my fingers felt raw from cracking the hard spiny shells and I felt a bit crispy from having spent the day frolicking (or was it pushing and shoving) in the sun.   The crawfish boils of yore relied upon southern hospitality and that crucial element is just sadly lacking in these modern times… although with a foodhoe at a ho-down, things can just get a little out of hand (I jest, I behaved).
I drove over from the East Bay with my dashing pal Ben who writes the snappy foodblog Cooking with the Single Guy. We arrived about an hour before the first schedued throwdown at noon.  We met JT in line, which was already kind of long but didn't take too long and we made a beeline to the beer concession which was serving free Bud for the first hour.  The day was exceptionally gorgeous, with brilliant blue skies and a refreshing cool breeze…
We milled around enjoying the day, sipping our refreshing beers, and eventually landed at a table where we staked out our spots to ensure our ringside entertainment.  Speaking of entertainment, there was a band playing some rousing Dixieland music throughout the day
JT held down the fort while Ben and I wandered around in search of the action, which was going down in a row of huge vats that were emitting puffs of tantalizing aroma. The drama centered around this crew of dudes who moved from vat to vat, stirring and checking the ingredients.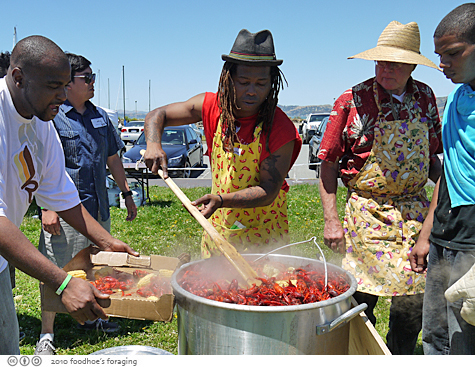 Each of the buckets would fit a small person, say the size of me, I wonder how many of pounds of crawfish were served over the course of the day.  This batch is ready to go, the shells are bright red and the corn looked juicy and succulent.
The Louisianan tradition involves boiling up tons of the critters with some corn and potatoes, and dumping them onto a communal table.  As you can see, our table received deliveries at both ends of the table.
At this point, it was awesome.  Everyone got a basket of bugs and there was no pushing or shoving,
The crawfish, also known as crawdad or mudbug, is an odd looking creature, it resembles a tiny lobster and has the distinct appearance of a bug.  They were spicy and very salty, I loved the pototoes but the corn from this batch was way over cooked… so we concentrated on pulling tails and sucking heads.
There were quite a few that were bursting with rich creamy roe
It is very labor intensive – a lot of work for this little morsel of tail, which is about as big as the first segment of my pinkie finger…
There was over an hour gap between the first and second servings, during which time the area began to feel crowded.  Uh-oh, watch out fellas, the natives are getting restless…
My friends Daisy and P arrived and held our spot at the table with JT.   The single guy and I decided to walk around and we saw a most amusing spectacle along Marina Boulevard, a parade of naked bicyclists!  lol, seriously!!
Things were getting grim when we got back to the tent, still no sign of the next feeding.  Finally they began to serve the tables, and there was some serious jostling going on and we saw some guy getting pulled away by people in uniforms.  From then all of the drops were accompanied by police and park rangers and the servers began yelling at us like we were in bootcamp:
YOU HAVE to give us room to dump these crawfish. Try to be courteous of your peers when getting food. You will all get fed
p.s. I found these very words on their website.
We tried to squeeze back into our tent, but this time around, only one side of the table was served and since it was on the other side, we could only watch the spectacle.  The hordes descended and everything was snatched up in a minute.
People were grasping for bits and pieces.
Some were even picking the bugs off the ground in desperation.
The staff quickly realized that this form of delivery was not working and set up lines for people to be served a small amount on plates instead of trays.
I was still hungry so we went to look for the Gumbo Cart that was supposed to be there to provide some extra southern comfort, but I swear we walked far and wide and only found a very long line for the complimentary plate of rice, beans and cornbread.  The rice was flavorless, the cornbread was flat and dry, the beans were bland and I had to spit out the piece of sausage that I tried.  Thumbs down on this plate, but if you are hungry, it goes all right as an accompaniment to a plate of spicy crawfish, taters and corn.
$25 for all you can eat crawfish, a plate of rice and beans (that I chucked) and free beer is still a very good deal, although I didn't leave feeling satisfied.  Gumbocart guy, where were you when we needed you?  In comparison to the Isleton Crawdad Festival that I went to with JT, Daisy and P back in 2008, I think this would be more successful if they didn't rely entirely on the crawfish to feed the crowds.  I would have enjoyed it more if they offered a wider variety of eats, and I would have gladly paid ala carte for them!  We continued on for ice cream as it was such a nice sunny day.
On their website they post the question, why ya'll do this e'er year for all these vultures and scoundrels? I bet these guys are seriously considering the question after this!
You can read the Single Guy's report on the day here, as well as his review of the ice cream here.